(post contains affiliate links: see disclosure)
Now that the dinning room is done I have decided to move on to the downstairs bathroom.
I chose to start on the cabinets below the sink. It was quite a jumble of products down there.
I took everything out of both cupboards and cleaned the spilled super washing soda off the bottom of the cabinet ( that is the white stuff you see in the photo. I love super washing soda for natural cleaning, it cleans gunk off of doors and does an amazing job on walls. It also does wonders on mustard and grass stains.
I divided the products up into two piles, cleaning products and personal products. I made one cabinet a cleaning supply cupboard and the other cabinet now holds our personal product stash.
You might notice that the cabinets in this bathroom are unstained and that is because my husband got about 80% done on this bathroom and then moved on to another project, leaving the cabinets without trim. I have been waiting for him to get back to it and finish the trim so I can stain them. Not thinking it will happen soon though. Oh well he is a great help around the house and he doesn't have a lot of extra time on his hands so it can wait.
What did you declutter this week?
3 Deals So Good I Had To Share
Need a new toaster? Enter to win one by liking the Bays English Muffins Facebook page and entering the sweepstakes form found there. They are giving one toaster away for 30 days. So you have plenty of chances to win
Take the quiz and be entered to win supplies for an epic party. Print and share coupons for $1.00 and $.50 off Windex, Scrubbing Bubbies, Pledge and Shout products.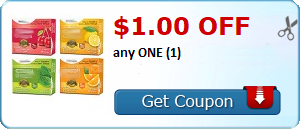 Combine this coupon with a sale and stock up on detergent.